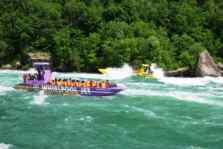 Whirlpool Jet Boat Tours:
Whirlpool Jet Boat Tours
61 Melville St. Niagara on the Lake ON, L0S 1J0 Open May 1 - Oct. 19 2014
3850 Niagara Parkway/River Road (Whirlpool
Aero
Car) Open June 28 - Sept. 1 2014
Reservations and a complete change of clothing are highly recommended Wet or Dry experience available. Minimum 44 inches tall (average size of a 6 year old). Tour are 45 - 60 minutes in duration (guests must arrive 45 minutes prior to departure to check in, participate in orientation, put on splash gear and board the boat). Guests will experience awe-inspiring scenery, the thrill of the Devil's hole class 5 white water rapids and the magnitude of the Whirlpool. Complimentary change rooms, lockers and parking are available
Comments
No comments posted yet!



Leave a comment: