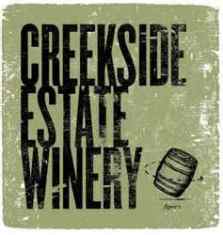 Creekside Estate Winery:
Creekside has been doing its premium thing on the Niagara Peninsula since 1997, beginning as a small winery with 11 acres under vine. Over the years this determined little winery expanded its vineyards to include its premium red growing site, Queenston Road Vineyard, located in the St. David's bench. The winery, located in Jordan, has become a wine-lover's destination, located slightly off the beaten path, but still in the heart of Niagara wine country.
The desire to be different has paid off for the Creekside crew. Across varietals, styles, and vintages, Creekside wines continue to scoop up accolades from peers and industry professionals alike. As a testament to the consistency of the winemaking team and the strength of the bottled product, several nominations for Canadian Winery of the Year have been awarded by various authorities at home and abroad, and the winemaking team was also awarded Winemaker of the Year in Ontario in 2008, and Vineyard Innovator of the year in 2012.
Comments
No comments posted yet!



Leave a comment: