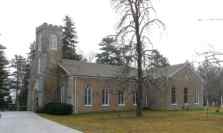 Saint Andrews Presbyterian Church:
Founded in 1794 after Rev. John Dun from Albany, New York was sent here on mission, St. Andrew's Presbyterian Church served the community until being destroyed in 1813 by retreating American Forces. The Church was rebuilt in 1831 in a simple Colonial Architectural Style with a pulpit and standing board of walnut furnished in 1840. The silver used for communion from 1831 is to date still used during services.
Although it is not a "tourist site", it reamins a wonderful example of a truly historical site that is currently functional in Niagara on the Lake.
Comments
No comments posted yet!



Leave a comment: