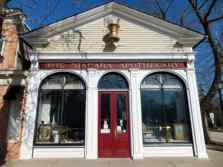 Niagara Apothecary :
The Niagara Apothecary at the Sign of the Golden Mortar is an excellent example of high style, eclectic mid-Victorian commercial architecture. The Italianate façade features arched glazed double doors and two arched plate glass show windows with accents of a Florentine "twisted rope" treatment.
The exterior was restored in 1971 to its 1869 opening. One of Canada's most noted restoration architects, Peter Stokes, who lived within eyesight of the Apothecary, supervised the meticulous restoration.
The interior boasts lustrous black walnut and butternut fixtures, elaborate plaster rosettes to anchor three crystal chandeliers (actually gasoliers in their time) projected an impression of 19th-century well-being and financial stability. This was especially grand for a small town in a rural setting, but it was intended by its owner to offer a boost to a community experiencing difficult financial and political problems beyond its control.
Comments
No comments posted yet!



Leave a comment: