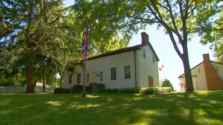 Laura Secord Homestead Historical Site:
Homestead
In 1813 Laura (married to a United Empire Loyalist) overhead American soldiers discussing an upcoming, surprise military attack. On the morning of June 22nd, Secord threw caution and safety to the wind, leaving her house early in the morning and walking over 20 miles of hilly, treacherous terrain to a British Outpost. The information about the attack that she relayed to British troops ended up being a leading factor in the British winning the Battle of Beaver creek on June 24th.
The Homestead, plot of land and the interior is fully restored and features a guided tour, gift shop and numerous plaques commemorating Laura Secord's commemorative walk. Secord's original home was fired upon and looted during the war of 1812. In 1971 Niagara Parks restored the home, turning it into a museum and continuing education centre.
Admission
Adult: $9.50 + Tax
Child: $6.25 + Tax (6-12 years of age)
Children under 6 are free
Comments
No comments posted yet!



Leave a comment: