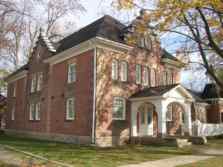 Niagara Historical Society & Museum:
The Museum has three main exhibitions spaces. The High School and Link Building contains a permanent exhibition, "Our Story". The Lower Level of Memorial Hall is a temporary exhibition room. In this area the exhibitions change twice a year to provide interesting exhibitions that are relevant to the residents of Niagara-on-the-Lake. The Upper Level of Memorial Hall is the "Janet Carnochan Gallery," a space that showcases different artifacts in the collection and that is changed on a regular basis.
Comments
No comments posted yet!



Leave a comment: