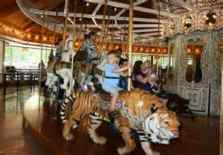 Looff Carousel:
OK, so it's not technically free, but pretty darn close. For 5 cents (and that's 5 cents Canadian!), kids can ride an antique, hand-carved merry-go-round that still operates from May – September. It is a Coney Island style carousel with 68 carved animals, 4 chariots and a functioning band organ, located in Lakeside Park, Port Dalhousie.

The Carousel is open 10am to 9pm from Victoria Day weekend until Labour Day.
Comments
No comments posted yet!



Leave a comment: