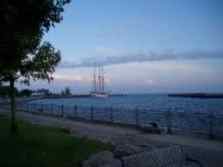 Welland Canals Trail:
This is a multi-use, asphalt trail that will stretch from Lakeshore Road, St. Catharines to Clarence Street, Port Colborne. To date, a 10-kilometre section from Lakeshore Road to the flight locks in Thorold is complete. As well, a rougher East Side Trail along a portion of the canal is planned.
Comments
No comments posted yet!



Leave a comment: