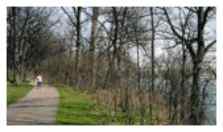 Steve Bauer Trail:
This 6-kilometre multi-use trail stretches from Fonthill to Welland. Begin your walk in Fonthill at Quaker Road and Line Avenue. Follow the stone chip rail bed, roads and stone chip path through several developments and end at the Welland River.
This trail system winds through various subdivisions of Fonthill. In general, the greenway travels west of Station Street passing Pelham Town Square to Pelham Street; it then follows Pelham Street to Pancake Lane where it turns and runs west; next it bisects several blocks of subdivision by running south from Shoalts Drive to Quaker Road. Another stretch of trail connects Pelham Street to Welland Road by tracing parts of Spruceside Crescent and Townsend Drive; yet another stretch travels down the abandoned NS&T line between Pelham Town Square and Alexander Street.
Information provided by the Regional Municipality of Niagara and the Brock University websites.
Comments
No comments posted yet!



Leave a comment: