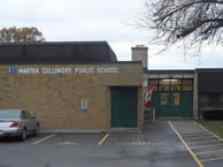 Martha Cullimore Public School:
Martha Cullimore Public School was opened in September, 1955 with an enrolment of 270 students in Kindergarten to Grade six. The architect was Gordon S. Adamson & Associates from Toronto and the local contractor, Smith Bros. Construction Company Limited, built the six room school for Stamford District Board of Education at a cost of $155,000. The six classrooms were overcrowded right from the beginning and one class had to be accommodated at nearby Victoria School. A seven room addition along with the "all purpose room" was completed by September l957. The library was added in l973 and was deemed an exemplary resource area by the Canadian Library Association in l978 and remains the hub of the school.
The Stamford Board of Education named the school in honour of Miss Cullimore who was appointed the first school nurse in the area in 1921 and held this position until her retirement in l966. They bestowed this honour because of the very important part she played in the school life of the community and because of the high esteem in which she was held by her fellow citizens. In l964 Martha Cullimore's enrolment peaked at 529. At it's 25th Anniversary Martha Cullimore enjoyed a school population of 311 students and has remained close to this number over the next twenty five years.
Martha Cullimore Public School continues to be a thriving community of learners with a staff of 18 teachers, 2 educational assistants, a principal, administrative assistant and custodian. Each and every one of these people help to meet the needs of our 285 students providing a safe, nurturing enviornment where everyone can learn.
Comments
No comments posted yet!



Leave a comment: