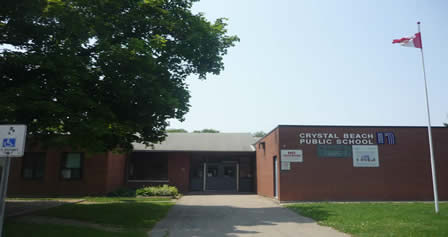 About Crystal Beach Public School
Welcome to the start of a new school year and the promise of many educational, athletic and artistic opportunities for each student at Crystal Beach Public School. We are proud of our tradition of COMET PRIDE, EXCELLENCE AND SPIRIT and we request the support of our school community (students, parents, community members) to help us continue this legacy during the 2011 - 2012 school year.
We extend a warm "COMET WELCOME" to all parents and students returning to Crystal Beach School and, if you are new to our school, we welcome you to the "Crystal Beach Family"!
Our aim at Crystal Beach School is to provide opportunities for each child to learn, develop and reach their full potential. We believe basic skills and concepts through the academic program are important, but we also believe the acquisition of creative thinking and building characte rare necessary so that basic skills can be applied to each child's present and future endeavours. We accomplish this by focusing on both the Tribes and CHAMPs Character Education Programs.
Our staff is a group that goes far beyond the call of duty to provide a wide variety of academic, athletic, musical and artistic activities beyond the scope of the already excellent day-to-day instruction in the classroom. They will continue to do their best to ensure that all students experience success on a regular basis.
To all our learners, teachers, parents and community at large, we wish the very best for an exciting and fulfilling school year. May our "COMET PRIDE AND SPIRIT" enable us to continue our strong tradition of excellence.
Educationally yours,
Mr. S. Shad