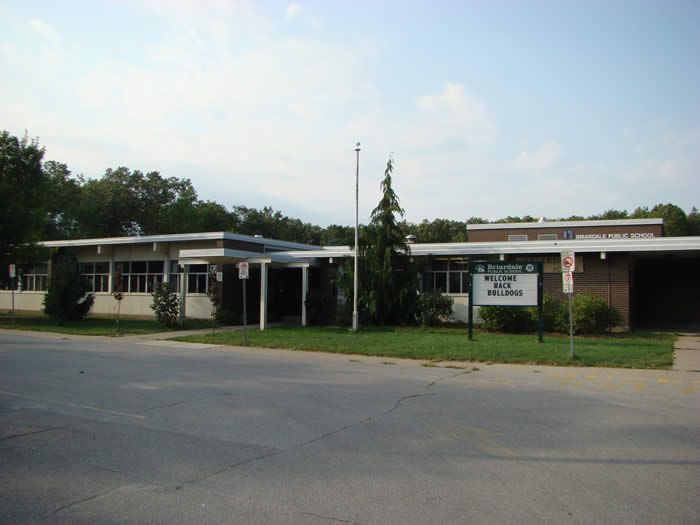 A Brief History of Briardale School
In 1952, the six acre site for Briardale School was purchased by the St. Catharines Board of Education for $7,800.00 and 6 years later in 1958, a 5 classroom school opened - four regular classrooms and a Kindergarten. The total cost to build the school was approximately $115,000.00
In March 1962 the first addition of four regular classrooms to the school was completed.
Six years later a second addition was constructed but because it wasn't ready for September 1968, a shift system was implemented where students went to school in 2 shifts - either from 8 a.m. until 12 noon or from 1 p.m. until 5 p.m.. This lasted until March 1969 when the classrooms were completed. The later shift necessitated the stringing up of lights across Glendale Avenue so children could go home safely in the dark.
The Preschool classes for Deaf and Hard of Hearing children began in 1971 and two years later, the Lincoln County Board of Education approved the establishment of classes for the Deaf and Hard of Hearing school children up to the age of 10 years. At the time of the school's 25th anniversary in 1984, there were 22 students enrolled in the Deaf and Hard of Hearing Program. The students came from the four Boards of Education in the Niagara Peninsula. Later, interpreters were hired for the program.
In 1977, Intermediate grades (Grades 7 and 8) were introduced and 7 years later, when a Junior Kindergarten class began as a pilot project, the last Grade 8 class graduated from Briardale.
A Part time gifted program was offered from 1986 to 1992 and from 1988 to 1993, a Behaviour class moved to Briardale.
Also in 1993, a Special Needs Program was introduced.
On May 3rd 2008, Briardale celebrated its 50th Anniversary of providing excellence in the education of children. At that time, 194 students were enrolled in the school. This included classes from Junior Kindergarten to Grade 6 and also the Pre-School Deaf and Hard of Hearing program, a Communication Class for children with Autism and a Behaviour Class. There were 25 staff members including both Regular and Special Education Classroom Teachers, Resource Teachers, a Librarian and a number of Educational Assistants to support our special education students.
In 2012, the Briardale-Oakridge French Immersion program started. A total of 9 classes including students from 14 DSBN schools were added for this program.